52 Organizing Missions
Join the Movement that's Changing Lives
Getting Organized Is Easy!
52 Missions is the unique, proven system for organizing your life and home.
You're guided to complete 52 organizing 'missions': simple, achievable, motivating projects around your personal, home and work life. Each missions takes just 30 minutes. There's even a timer.
With the Home, Personal, Time, Closet and Household missions you'll get your life in order in no time!
Show the complete list of 52 Organizing Missions.
1: Fill a Hu-u-uge Trash Bag – What to get rid of, room by room
2: Detox Your Briefcase/Tote/Bag – 5 steps to steamlining your purse or briefcase
3: Organize Your Bill Payment – How to never forget to pay another bill
4: Forgo the Freebies – How to calculate the true cost of so-called 'freebies'
5: Be a Smart Verbal Communicator – The secret to messages that save time and boost productivity
6: Detox Your Car – 5 steps to a tidy, organized car
7: Be Happy! – How to make yourself happier (with free worksheet)
8: Declutter 50 Items – How to immediately clear 50 items from your home
9: Filing System Nirvana – A fast, easy, 2-step process for filing everything
10: Clear Out Your Closet – How to perform a 'closet clutter check'
11: Create Your Wardrobe Wishlist – How to create the perfect wardrobe shopping guide
12: Organize Your Accounts & Credit Cards – 4 steps to organized accounts (with free worksheet)
13: Organize Your Emergency Contacts – Be well prepared for emergencies (with free worksheet)
14: Organize Your Household Notebook – Create a household brain center (with free worksheet)
15: Organize Your Kitchen – The secret to clear kitchen surfaces – fast
16: Streamline Your Books, CDs & DVDs – Know what to keep – and what to get rid of
17: Create Your Bedroom Sanctuary – How to create a relaxing space for you
18: Organize Your Computer in 7 Simple Steps – Easy steps to spring-cleaning and tidying files
19: Organize Your Office – How to have a motivating, clutter-free office space
20: Create Your 'Organized Life Bedtime Routine' – Your ideal evening routine for better organization
21: Create Your 'Organized Life Morning Routine' – Your ideal evening morning for better organization
22: Organize Your Bathroom – A smart way to organize your bathroom
23: Enjoy Good Relationships – How to declutter your friends – with love
24: Create a Chore Chart – Conquer chores with a practical chart (with free worksheet)
25: Bust Your Procrastination Demons – Finally master the tasks you've been avoiding
26: Reflect On Your Success – And Reward Yourself! – Look back on your prgress – and celebrate
27: How To Boost Productivity at Work – 5 steps to being much more productive at work
28: How To Simplify Your Home Organization Tasks – 5 smart ways to spend less time on chores
29: How To Make the Most Of Your Personal Time – How to have more 'me' time – it is possible!
30: Organize Your Personal Stress Management Plan – 4 steps to reducing stress
31: Organize Your Living Area – Create a living area you're proud to invite people to visit
32: Organize Your Laundry – How to set up an effective laundry system
33: Organize Your Email Management – Take charge of your inbox and simplify emails
34: Donate 50 Things – 50 things to give away instantly
35: Set 'Yes' Priorities – And Know When To Say No – When to say 'no' – and how to do it
36: Organize Your Paperwork – 3 piles that will greatly simplify your paperwork
37: Organize Your Diet – 4 steps to turbo-charging your diet
38: Organize Your Fitness – 3 steps to turbo-charging your exercise
39: Declutter Your Surfaces – The ultimate solution to decluttered surfaces
40: Conquer Your Storage Space Demons – How to finally tackle your storage unit or storage space
41: Simplify Your Life – Possessions – Entire categories of clutter you can clear in an instant
42: Simplify Your Life – Time – 4 sneaky time killers – and how to kill them first
43: How To Declutter Your To-Do List – 3 things to immediately strike off your to-do list
44: Live Within Your Home's Boundaries – How to live better in your house's boundaries
45: Organize Your Garden – Mini-projects to transform your garden
46: Give Yourself A MakeOver – Mini-makeover projects to help you look your best
47: Declutter Your Thinking Habits – How to stop 10 negative-thinking habits today
48: Organize Your Kids & Their Bedrooms – The secret to keeping kids' bedrooms clear of clutter
49: How To Find Your Passion – How to find your passion
50: Get Rid Of Debt – 4 steps to getting rid of debt (with free worksheet)
51: Weekly Schedule Template – How to create your ideal weekly schedule (with free worksheet)
52: Live a Simpler Life – The 3-cubed formula for simplifying your life
Hide the list.
Appolicious – Week's Best iPad App
"For anyone who's had the goal of getting organized, yet can't seem to find the time to make it happen – or just don't know where to start – 52 Organizing Missions is a must-buy app." – Appolicious
Missions Guide You Step by Step
Every organizing mission is presented in easy-to-follow steps.
There are also Dos & Don'ts and Extended missions, plus suggestions for getting the family involved.
It's a great way to organize your life, home and time. And you'll love checking of your completed missions when you're done.
"This has literally changed my life, I had papers everywhere and no idea where to start! Granted, it took longer than 30 minutes, but now everything is categorized and labelled in one folder, Michele, I can't thank you enough!" – Annie
Complete Missions,
Earn Badges
To keep you motivated, you earn badges as you complete missions.
Are you a Dedicated Organizer, Organizing Superstar or Organizing Champion? Complete missions to unlock the badges, and share your success on Facebook.
Create Your To-Do List As You Go
There's also a simple To-Do list to add notes to.
Simply jot down items as you go through the missions. Remove them when you're finished.
Simple. Manageable. Motivating.
"Having a time limit and instructions makes filling the bag easier! I filled 3 trash bags. I will need to do this exercise at least one more time this week." – Jinny
Weekly Reminder Emails
Sign up for optional weekly reminder emails and we'll let you know when it's time for your next mission. It's a great way to stay on track.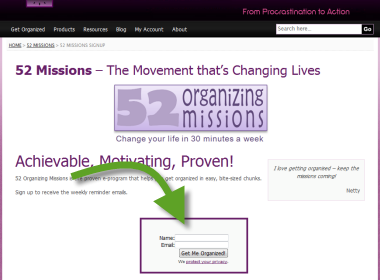 Star Your Favorites
Want to flag the missions to tackle first? Add them to My Missions. Want to repeat your most powerful missions? Add them to your Favourites.
Based on the Popular Program
Includes all 52 organizing missions from the hugely popular 52 Missions Home Organizer program.
Get Additional Resources
View recommended articles and bonus resources with the special in-app browser.
It's Proven
Read what people are saying about 52 Organizing Missions:
"Ok, so I started, I walked and filled. Suddenly I noticed, the bag was dragging and was bursting at the seams. Huh, ok another bag. Hey my 30 minutes is up, still I can't stop now I'm just into the swing of things. So on and on and on. 4.5 hours later, 6 bags….and I haven't even been into my garage yet. Hey this was a wonderful task, not only did I feel I uncluttered my home, I feel more room in my brain too. I originally decided to sign up for this for my wife…..ah hum….she said no way. So I decided to do them all myself. One of the best ideas I have had in a long time. " – John
"Very refreshing! This week s mission was a great delight! So much pleasure to (re)discover the little things that make me happy. And it is not selfish at all, because the happiness you give to yourself will spread to all others you meet and interact with. Thanks a lot! " – Klimbo
"Your "cancel subscriptions" was a breakthrough one for me. I subscribe to many magazines (write columns for a few), and keep hard copies of the magazines with my articles. What a dusty mess was sitting in the corner of my office. Why was I keeping them? They even smelled old and moldy…so I heaved them away…making room for all my new articles coming up. Stopped my complimentary subscriptions too, as they were giving me guilt that I hadn't read all of them.
Thank you so much for all your help Michele!" – Lois Geller
"Being a generally hopeless case when it comes to acquiring clutter, this "room-by-room" approach makes it a lot easier to get started. Makes the whole task seem less overwhelming. And thanks for the pat on the back! The generally positive approach also makes the task a lot more appealing. " – Katherine
Read hundreds more success stories from people using 52 Organizing Missions.
Screenshots
The following slideshow highlights key features. Hover your mouse over a screenshot to pause the slideshow. Click to view the full size image in a new window.
"WOW !!! What a great idea . And best of all I don't feel overwhelmed – I just imagine my life and my home when I have completed 52 Weeks." – Maria
Thousands of people around the globe are getting amazing results.
Now you can too!
Get Started Today! 52 Organizing Missions is available on the App Store now.