52 Missions – Join the Movement that's Changing Lives
I love getting organised – keep the missions coming!
Netty
Achievable, Motivating, Free!
52 Organizing Missions is a free e-program that helps you get organized in easy, bite-sized chunks.
It's Achievable
I did it!! I was late, but I did it this past weekend and I'm now in the mood to do more.
Thanks for the motivation!

Julie
Here's how it works:
You commit to completing just one 30-minute organizing mission a week. Easy peasy!
Choose extended options for more challenge, or family options to involve the whole clan.
Missions include decluttering, personal organization and goal-setting across life areas.
It's Motivating
Finally stopped procrastinating and started chucking. A big bag went to the tip and a huge pile of books has gone to a good home. My Dad always used to say "a tidy room, a tidy mind". It may not always be true but it sure does help!
These missions are brilliant, thank you!
Gill
52 Organizing Missions uses accountability motivation to help you get better organized. Here's how:
You're publicly accountable to complete each weekly mission.
After joining 52 Organizing Missions you register your public commitment by leaving a comment on the blog.
As well as the rewards of an increasingly organized life, we have extra motivators including badges, certificates and prizes.
Gain more from 52 Organizing Missions by making it a family project, getting a buddy or starting an encouragement group.
Download a poster to help get the word out.
Submit your before and after photos to the 52 Organizing Missions 'Hall of Fame' Gallery to motivate yourself – and others.
It's Free
52 Organizing Missions Basic is totally free – no catches! So there's no excuse to procrastinate another minute on getting organized.
Join the movement that's
changing people's lives
– in just 30 minutes a week.
Or Upgrade to Premium – And Get The Workbooks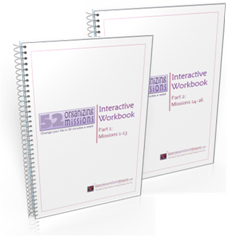 Turbo-charge your organizing success with the accompanying 52 Organizing Missions Workbooks.
Every mission in attractive, printable format
Fully interactive planning worksheet, to-do list and success journal for every mission
Provides a record of achievements as you go
Self-guided – progress at your own pace
Re-usable – repeat the program whenever you need a refresher
Live links to relevant blog post for accountability check-ins
Available now: Workbook 1: Missions 1-13 (116 pages)
Available now: Workbook 2: Missions 14-26 (120 Pages)
Coming soon: Workbook 3: Missions 27-39 and Workbook 4: Missions 40-52
Join Today!
It's super simple.
Choose your preferred option below.
(Enter your details on the Signup page and check your Inbox)
You'll receive your first mission within minutes!
Join now!
52 Missions
Basic
52 Missions
Premium
Design Your
Life
FREE!
$4.95/month
$49/month
52 Organizing Missions Emails –
Direct to your inbox
Quarterly Interactive Workbooks –
With printable missions plus additional planning
worksheets, to-do lists and success journals
Self-Guided –
13 Missions in advance for you to complete
at your own pace
Comprehensive 12-Month Program –
Life Design & Self-Improvement Program
Includes weekly e-classes, workbooks, videos
and Member-only forums.
Badges & Widgets | Success Stories | 52 Missions Gear | Help Promote 52 Missions | *New*: 52 Missions on Twitter