Minimalism and decluttering are quite literally best friends, soul mates and lifelong partners. It's all about the mindset of eliminating the unnecessary things, being conscious of the things we consume but most importantly how it influences the way we decorate our living and working space.
According to a white paper released by Haworth – millennials are blending their work and personal life so the need for well-thought out special design is imperative. This can easily be applied to business owners who work from home and typically adapt the same behaviour.
We believe an office space with minimalist decor is a journey to an open mind, increased productivity and calmness –all of which are necessities for running a successful business.
Here are 9 Easy Ways to Create Minimalism
1. Ditch Ornaments and Buy Low-Maintenance Plants
It's all good and well having neutrality in your office colour scheme – however, we've discovered that a touch of nature is proven to increase your productivity. Try these classic and easy to care for plants in your work space.
9 Low Maintenance Plants For the Office
2. Pick Your Colours and Textures Wisely
We previously shared how colour choices boost our mood which should certainly help attain the feel for your dream office. However, minimalism within an office is easily achieved through accents or neutral colours.
Try incorporating your wall colours into cushions, pens, storage and other smaller items to add little details and accents to your space – remember that minimalism doesn't have to be boring, don't be afraid to play with textured pieces to further accentuate areas of your office.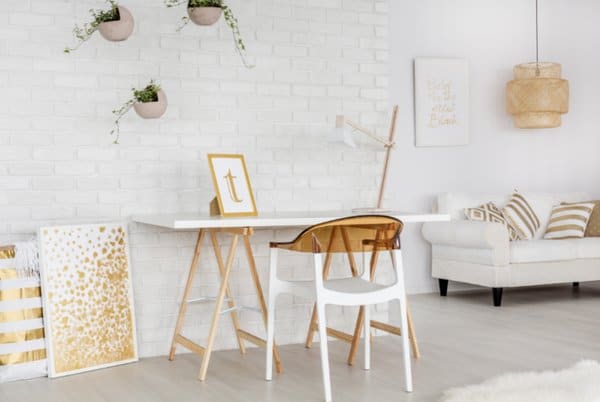 Home Office Paint Colour Ideas
3. Invest in Quality Products Over Lots of Quantity Products
Do you have 10 shirts in your wardrobe but only really wear half of them? This mentality can be easily applied to decorating your home office in a minimalist style.
Joshua Becker reinforces how buying fewer things and investing in higher quality items wasn't a conscious decision, this goes hand in hand when incorporating a minimalist decor and lifestyle.
With all the tips on this list, ensure the pieces you do decide to invest in are of high quality and have a purpose – whether that be daily use or assisting with the mood of your overall home office.
4. Make Use of Mirrors to Open Up Small Spaces
If your office is on the small side, don't let this put you off designing your space to the fullest. Carefully placed mirrors are a great way of opening up small spaces as they reflect light, 'opening up' your office and are a great way to incorporate decoration if you're not into installing art pieces.
Still struggling to open up your space? Read how we deal with small home office space
10 Design And Storage Tips To Make The Most Of Your Small Office
5. Pick Storage That is Practical and Functional
With minimalism you want little-to-no clutter – this means your storage choices need to tuck away a vast majority of your office supplies as a must. If you're going for clean lines, simplicity and rigidity in your storage furniture can compliment your space amazingly.
However, if you're after a touch of personality or something a little different in addition to your clean lines and simple space – invest in an antique as a statement piece within your office.
Creating A Minimalist Work Environment – It's Easier Than You Think
6. Install Minimal Art at Eye Level 
Don't be put off installing art for the sake of minimalism –  consider proportion and ease of view. This is actually a great, simple way to accent your space in place of other furniture and accessories. Keep in mind that your office is a space to work in, but a small personal touch can go miles in terms of minimalist decor.
Styling A Minimalist Home Office
7. Incorporate Wooden Furniture
Joyce Bromberg over at Convene states that materials such as wood and other textiles are associated with a 'warm, cozy feeling'. This is something that demolishes all stereotype of minimalism being cold and boring.
Natural materials such as wood is another way to incorporate nature and work in harmony with placing plants on top of too.
Go With Wood For The Happy Home Office
8. Make Time a Statement
An incredibly easy way to incorporate minimalism beyond anything else is having a minimalist statement piece. This can be something as easy as a big clock on your wall to easily keep your tasks on track instead of rummaging for your phone.
9. Most Importantly – Work With What You've Got
Already have some furniture from other rooms in your house to move into your office? What about designing your office in line with the textures and colours your home already has – Remember that simplicity and minimalism go hand in hand and it's very likely you already have items in your household to use as decor and practical items in your home office.
Author Bio: John Stuart works on behalf of Modern Garden Room in outreach and content creation. He creates engaging content that help businesses connect with their audience and stand out from the crowd.